Buying an Inground Pool in Vermont
Vermont homeowners are not especially fond of swimming pools. In fact it's a novelty for many homeowners in the Northeast region of the United States but nowhere else is this more true than in Vermont. Known more for it's fantastic skiing and brutally cold winters than for it's short humid summers – still many Vermont pool buyers find that with sufficient heating they're able to take complete advantage of the summer months and extend a shorter than average swim season. Researching Vermont Pool Prices? Keep reading.
Construction Costs: AVERAGE
Swimming Season: SHORT
Short Swim Season
You'll find about 2 usable months off swim time on the calendar in Vermont. It's simply too cold to consider installing an outdoor inground swimming pool without a heater. Many Vermont pool buyers opt to install an indoor inground swimming pool that allows them to extend their swim season year round. Still even more opt to install an inground spa or above ground hot tub which offers 110 degree therapeutic soothing baths that rejuvenate homeowners after a long day.
Popular Vermont Inground Pool Features
[carousel-horizontal-posts-content-slider-pro id='71196′]
Top 10 Cities in Vermont Building New Swimming Pools
Village of Essex Junction
Winooski
South Burlington
Burlington
Montpelier
Waterbury
Rutland
Swanton
North Bennington
Northfield
How Much Does it Typically Cost to Install an Inground Swimming Pool in Vermont?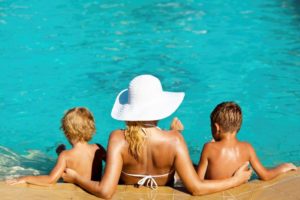 Construction costs for installing a swimming pool in Vermont are average and on par with what you'll find around the rest of the United States. A quick survey of Vermont pool builders in multiple cities came back with prices that start in the $40,000-$50,000 range which sounds about right for an Inground Swimming Pool in this area of the country. However if you do choose to install a pool heater or build an inground pool you can expect to pay more for than with a typical pool installation. The permit process for installing a pool can also be a bit tricky in Vermont but there are no specific laws or codes that require installing a perimeter fence around your pool so you can save a bit there.
Average Vermont Pool Prices start at $40,000-$50,000 for a basic inground pool. Check prices from local pool contractors below.
Looking for a Swimming Pool Quote in Vermont?
Fill out this quick form and get a swimming pool quote online from top pool builders in your local area.