Average Cost of a Swimming Pool in Texas
The average cost of an inground pool in Texas is approximately $25,000. For an above ground pool, the average cost is around $6,500 for labor and equipment.
A recent 2016 survey conducted by SwimmingPoolQuote.com of 100 Texas Pool Contractors found the average cost of an inground swimming pool is $25,000 in Texas, above ground pools were typically estimated around $6,500.
Buying an Inground Pool in Texas
The lone star state sure does love it's pools. Everything is bigger in Texas and the inground pools you'll find accenting homes in this state are no exception. From San Antonio to Dallas, Texas homeowners are buying homes with bigger sized lots to accommodate larger sized pools with over the top features that you'd seldom find outside a world-class resort. Researching Texas Pool Prices? Keep reading.
Construction Costs: LOW
Swimming Season: LONG
Long Swim Season
How long your swim season is in Texas depends on what part of the state you live in. Texas is simply enormous, it's our largest state by size after Alaska at 268,580 square miles and the weather tends to be much hotter in the southern part of the state. So if you live closer to Houston or Austin, average temperatures won't get much lower than 70 degrees in all but the winter months, but if you live farther north – say in Dallas for example, the temperatures tend to be a bit cooler. Texas pool buyers take advantage of a longer than average swim season by installing freeform pools equipped with jump rocks, slides, and other exciting add-on's.
Popular Texas Inground Pool Features
[carousel-horizontal-posts-content-slider-pro id='71196′]
Texas Pool Prices by City
Texas Swimming Pool News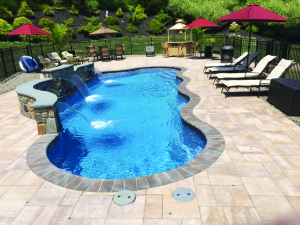 If you are thinking of installing a pool or buying a home with a pool, you should consider the benefits of swimming pools. Even if you are not an excellent swimmer, you can still enjoy swimming. Having a swimming pool at your disposal gives you access to ways of staying fit and healthy as well […]
How Much Does it Typically Cost to Install an Inground Swimming Pool in Texas?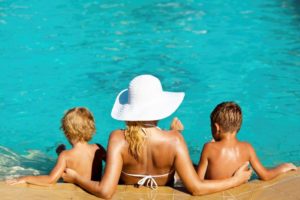 Prices for pool installation in Texas can vary dramatically from area to area. Labor costs for pool construction remain comparatively low in conjunction with the rest of the country. A quick survey of Texas pool builders in multiple cities came back with prices that start in the $30,000-$40,000 range which sounds about right for an Inground Swimming Pool in this area of the country. Obtaining permits can be tricky, the exact permit process differs from city to city. In larger metros like Houston it can be especially difficult – so check with a seasoned pool builder that has experience in this regard. There are no specific state laws in regards to fencing. Texas homeowners looking to install an inground pool would be best advised to speak with a local pool contractor in regards to any specific city laws that may require a perimeter fence.
Average Texas Pool Prices start at $25,000-$35,000 for a basic inground pool. Check prices from local pool contractors below.
Looking for a Swimming Pool Quote in Texas?
Fill out this quick form and get a swimming pool quote online from top pool builders in your local area.