Buying an Inground Pool in Rhode Island
Rhode Island is the smallest state in the Union but has much to offer tourists with many gorgeous beaches and plenty of scenic and natural beauty. Many Rhode Island home owners find that owning a swimming pool enables them to enjoy the hot summer months and take complete advantage of their backyards. Rhode Island pool buyers are completing their backyard and adding high end features like pergolas, firepits, and barbecues to make their backyard the IT destination for every family get-together. Researching Rhode Island Pool Prices? Keep reading.
Construction Costs: HIGH
Swimming Season: SHORT
Short Swim Season
Rhode Island has a shorter than average swim season. It tends to cool off dramatically after Labor Day. You'll find that many Rhode Island pool owners opt to close their pool unless they've purchased a pool heater to extend the swim season in the cooler months. Many Rhode Island home owners choose to install an indoor swimming pool that allows them to enjoy their pool year round no matter what the weather is like.
Popular Rhode Island Inground Pool Features
[carousel-horizontal-posts-content-slider-pro id='71196′]
Top 10 Cities in Rhode Island Building New Swimming Pools
Westerly
Ashaway
Hope Valley
Kingston
Newport
Cranston
Melville
East Providence
Newport East
Providence
How Much Does it Typically Cost to Install an Inground Swimming Pool in Rhode Island?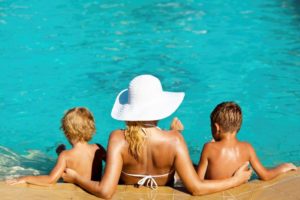 Installing a pool in Rhode Island can be an expensive proposition. A quick survey of Rhode Island pool builders in multiple cities came back with prices that start in the $50,000-$70,000 range which sounds about right for an Inground Swimming Pool in this area of the country.  Labor costs for pool installation are higher than average and obtaining the proper building permits for installing a swimming pool can be tricky. There are no special rules or regulations regarding perimeter fencing around the swimming pool so you'll save a bit there.
Average Rhode Island Pool Prices start at $50,000-$70,000 for a basic inground pool. Check prices from local pool contractors below.
Looking for a Swimming Pool Quote in Rhode Island?
Fill out this quick form and get a swimming pool quote online from top pool builders in your local area.