Buying an Inground Pool in Oregon
If you live in the great state of Oregon you're surrounded by natural beauty with a diverse climate that's known for an extended wet season. It rains in Oregon, alot! The summers are short and humid and the winters are cold and wet. Still, even with an abbreviated swim season – that doesn't deter Oregon homeowners from wanting a gorgeous swimming pool in their backyard. Researching Oregon Pool Prices? Keep reading.
Construction Costs: VERY HIGH
Swimming Season: SHORT
Short Swim Season
Unlike it's neighbor to the south (California), you'll find a shorter than average swim season in Oregon. It's quite common for Oregon pool buyers opt to add on a swimming pool heater when building their indoor pool. Doing so enables pool owners to extend their swim season and enjoy their pool well into September.
Popular Oregon Inground Pool Features
[carousel-horizontal-posts-content-slider-pro id='71196′]
Top 10 Cities in Oregon Building New Swimming Pools
Oregon Swimming Pool News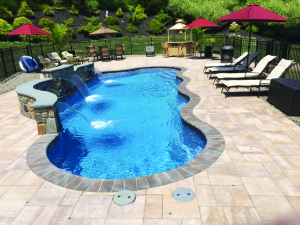 If you are thinking of installing a pool or buying a home with a pool, you should consider the benefits of swimming pools. Even if you are not an excellent swimmer, you can still enjoy swimming. Having a swimming pool at your disposal gives you access to ways of staying fit and healthy as well […]
When people think of installing a custom pool and deck in their yard, the first thing that comes to their mind is the fun factor. There is no question your loved ones will get countless hours of fun with their brand new swimming pool; however, there are lots of other reasons they need to think […]
How Much Does it Typically Cost to Install an Inground Swimming Pool in Oregon?
Construction costs for installing an inground swimming pool in Oregon are typically higher than what you'll find in the rest of the country. A quick survey of Oregon pool builders in multiple cities came back with prices that start in the $50,000-$60,000 range which sounds about right for an Inground Swimming Pool in this area of the country. Most homeowners opt to add on a pool heater so that may pad costs a bit. The building permit process for installing a pool in Oregon can be a bit tricky in comparison to most states and there are special rules and regulations about installing a mandatory perimeter fence around your pool so plan for that expense as well. We hope you find these tips helpful but always consult with a professional swimming pool contractor first.
Average Oregon Pool Prices start at $50,000-$60,000 for a basic inground pool. Check prices from local pool contractors below.
Looking for a Swimming Pool Quote in Oregon?
Fill out this quick form and get a swimming pool quote online from top pool builders in your local area.