Buying an Inground Pool in Oklahoma
Oklahoma has it's fair share of sunny days with scorching temperatures that soar over 100 degrees. Many Oklahoma homeowners enlist the help of their local pool builder to help them create their own private backyard getaway. Fiberglass pools seem to be especially popular in Oklahoma. Researching Oklahoma Pool Prices? Keep reading.
Construction Costs: LOW
Swimming Season: LONG
Long Swim Season
The climate varies depending on what part of the state you live in, but no matter where you are in Oklahoma you can expect a long hot summer year after year. Swim season normally starts by early April and keeps going well past Thanksgiving in many parts of the state. Aside from the fantastic swimming temps, Oklahoma is known for it's wild unpredictable weather. The state is very dry and dusty so many Oklahoma pool buyers opt to have an automatic pool cover installed which helps keep the pool clear from debris and dirt that can infiltrate the water during a storm.
Popular Oklahoma Inground Pool Features
[carousel-horizontal-posts-content-slider-pro id='71196′]
Top 10 Cities in Oklahoma Building New Swimming Pools
Norman
Edmond
Moore
Yukon
Bethany
Mustang
Jenks
Del City
Bartlesville
Owasso
How Much Does it Typically Cost to Install an Inground Swimming Pool in Oklahoma?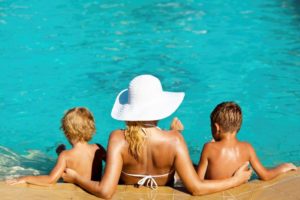 Prices for pool installation in Oklahoma are lower than most of the rest of the country due to lower costs for skilled labor. A quick survey of Oklahoma pool builders in multiple cities came back with prices that start in the $30,000-$40,000 range which sounds about right for an Inground Swimming Pool in this area of the country. We recommend you take advantage of this and trick out your swimming pool with the latest and great features. You'll likely need a permit to build a swimming pool in Oklahoma, so check with your local pool contractor first. Oklahoma is also a state that requires you to install a perimeter fence surrounding your swimming pool so you'll want to prepare for this additional cost.
Average Oklahoma Pool Prices start at $30,000-$40,000 for a basic inground pool. Check prices from local pool contractors below.
Looking for a Swimming Pool Quote in Oklahoma?
Fill out this quick form and get a swimming pool quote online from top pool builders in your local area.