Buying an Inground Pool in New York
Life is pretty sweet when you live near the Big Apple. Inground swimming pools are actually pretty popular in New York especially since smaller sized lots mean that pool builders frequently have to get creative in homeowners backyards. New York pool buyers frequently add on a pool heater and adjoining spa or hot tub. New York homeowners seem to enjoy the lifestyle shared by their west coast counterparts, often opting to add on features like Pergolas, Firepits, and Barbecues. Researching New York Pool Prices? Keep reading.
Construction Costs: HIGH
Swimming Season: SHORT
Short Swim Season
Like most of the other states in the Northeast, New York's swim season is abbreviated due to colder than average weather as the summer months turn to fall temperatures dip dramatically. New York pool buyers that opt to add on a pool heater can often extend their swimming season well past Labor Day. Adding on a spa or hot tub makes alot of sense in a colder climate like New York.
Popular New York Inground Pool Features
[carousel-horizontal-posts-content-slider-pro id='71196′]
Top 10 Cities in New York Purchasing Swimming Pools
Scarsdale
Rye
Mamaroneck
Tarrytown
White Plains
Mount Kisco
Dobbs Ferry
New Rochelle
Ossining
Saratoga Springs
How Much Does it Typically Cost to Install an Inground Swimming Pool in New York?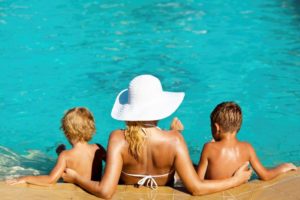 New York is one of the most expensive states in the whole union to install and own a pool. Due to high construction prices labor frequently absorbs a large portion of pool installation costs in New York. A quick survey of New York pool builders in multiple cities came back with prices that start in the $50,000-$70,000 range which sounds about right for an Inground Swimming Pool in this area of the country. Another factor to consider is the arduous permitting process associated with building a swimming pool. You'll also want to factor in the mandatory perimeter fencing you'll need if you plan to build a pool in New York state. As always, we advise you consult with a professional pool contractor who can help you with the entire process.
Average New York Pool Prices start at $50,000-$70,000 for a basic inground pool. Check prices from local pool contractors below.
Looking for a Swimming Pool Quote in New York?
Fill out this quick form and get a swimming pool quote online from top pool builders in your local area.