Buying an Inground Pool in New Jersey
Everyone flocks to the Jersey shore during the summer months to enjoy the scenery and the beaches. Still many homeowners in New Jersey enjoy the benefits of owning an inground pool. With larger sized lots found in suburban New Jersey neighborhoods come larger inground pool and spa combinations that rival many found on the west coast. Still with high costs for installation, adding an inground pool in New Jersey can be a bit expensive. Researching New Jersey Pool Prices? Keep reading.
Construction Costs: HIGH
Swimming Season: AVERAGE
Short Swim Season
You'll find an abbreviated swim season in New Jersey as with most Northeastern states. However, this doesn't stop New Jersey homeowners from trying to take complete advantage of every possible swim day. We find that many New Jersey pool buyers are adding on an electric pool heater and solar heating pool covers which enable them to extend their swim season until well past labor day.
Popular New Jersey Inground Pool Features
[carousel-horizontal-posts-content-slider-pro id='71196′]
Top 10 Cities in New Jersey Building New Swimming Pools
Fairlawn
Edison
Westfield
East Brunswick
North Brunswick
Wayne
Toms River
West Orange
Hoboken
North Bergen
How Much Does it Typically Cost to Install an Inground Swimming Pool in New Jersey?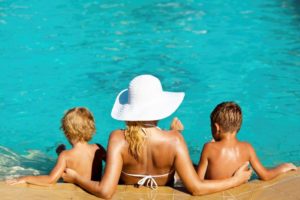 Every form of construction is expensive in New Jersey and skilled labor like swimming pool installation is no exception. A quick survey of New Jersey pool builders in multiple cities came back with prices that start in the $50,000-$70,000 range which sounds about right for an Inground Swimming Pool in this area of the country. As the most densely populated state (by size) you can expect no shortage of hurdles and fees associated with obtaining the proper building permits for installing your pool there is also a mandatory regulation in regards to installing a perimeter fence around your pool. Both these factors will increase the cost of pool installation in New Jersey. As always, we advise you to consult with a qualified pool contractor who can help you with the entire process.
Average New Jersey Pool Prices start at $50,000-$70,000 for a basic inground pool. Check prices from local pool contractors below.
Looking for a Swimming Pool Quote in New Jersey?
Fill out this quick form and get a swimming pool quote online from top pool builders in your local area.