Buying an Inground Pool in New Hampshire
New Hampshire is a destination for many tourists during the summer months. It's pristine beaches and easy accessibility make it a vacation destination for so many, especially during the autumn months when visitors flock in droves to watch see the leaves change color. In consideration this is probably why so many New Hampshire homeowners opt to install an inground swimming pool. New Hampshire pool buyers are looking to create their own staycation in their backyards. Researching New Hampshire Pool Prices? Keep reading.
Construction Costs: HIGH
Swimming Season: SHORT
Short Swim Season
As with many other states in the Northeast region of the United States, you'll find a shorter than average swim season in New Hampshire. In the summer months the weather can be quite hot and humid making an inground pool the ideal place to spend a summers day. As long as you install a swimming pool heater you can extend your swimming season well past labor day.
Popular New Hampshire Inground Pool Features
[carousel-horizontal-posts-content-slider-pro id='71196′]
Top 10 Cities in New Hampshire Building New Swimming Pools
Hanover
Lebanon
Keene
Exeter
Portsmouth
Concord
Dover
Nashua
Hampton
Durham
How Much Does it Typically Cost to Install an Inground Swimming Pool in New Hampshire?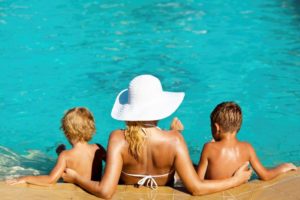 Construction costs are key when installing a pool in New Hampshire. Many homeowners find that labor costs are more expensive and that generally means you can expect to pay more for your inground pool installation. A quick survey of New Hampshire pool builders in multiple cities came back with prices that start in the $50,000-$70,000 range which sounds about right for an Inground Swimming Pool in this area of the country. Gunite inground pools are rare but gaining traction with discerning homeowners who demand quality. The permit process for building an inground pool can be tricky and you will also be required to install a perimeter fence around your pool. It's advisable to talk to a reputable pool contractor that can help you through the entire process.
Average New Hampshire Pool Prices start at $50,000-$70,000 for a basic inground pool. Check prices from local pool contractors below.
Looking for a Swimming Pool Quote in New Hampshire?
Fill out this quick form and get a swimming pool quote online from top pool builders in your local area.