Buying an Inground Pool in Massachusetts
Real estate is at a premium in Massachusetts so you won't typically find huge elaborate swimming pools, still the state has a lot of pools. The summers can be scorchingly hot and humid. Massachusetts home owners find that installing an inground swimming pool allows them to take complete advantage of their backyards. It's pretty much a guarantee that if you install a pool in your backyard that your house will become the IT destination for every birthday party, get-together, and family event. Massachusetts pool buyers frequently opt to complete upgrade their backyard in addition to the pool – installing pergolas and firepits that allow them to live a west coast life style on the eastern seaboard. Researching Massachusetts Pool Prices? Keep reading.
Construction Costs: HIGH
Swimming Season: AVERAGE
Average Swim Season
While you won't find your swim season in Massachusetts lasting as long as the southern states, you'll still get plenty of use from your inground pool from Memorial Day until well past Labor Day. You can extend your season til the leaves change color if you add on a pool heater. Many Massachusetts pool buyers opt to add on a solar pool cover which helps the water stay warm and keeps heating costs down.
Popular Massachusetts Inground Pool Features
[carousel-horizontal-posts-content-slider-pro id='71196′]
Top 10 Cities in Massachusetts Building New Swimming Pools
Weston
Concord
Wayland
Lexington
Bedford
Lincoln
Wellesley
Sudbury
Marblehead
Sharon
How Much Does it Typically Cost to Install an Inground Swimming Pool in Massachusetts?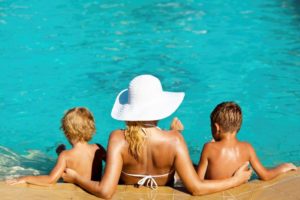 Massachusetts has some of the highest costs for swimming pool construction in the country. Skilled labor costs add to the average cost for installing a pool and adding on the tricky permitting process and mandatory perimeter fencing can increase your pool installation costs by several thousand dollars. A quick survey of Massachusetts pool builders in multiple cities came back with prices that start in the $50,000-$70,000 range which sounds about right for an Inground Swimming Pool in this area of the country. Many Massachusetts pool buyers opt to install optional add-on's like a pool heater for more comfortable water temperatures which can pad the installation cost as well. Still, it's best to consult with a professional pool contractor that can help you with the entire process.
Average Massachusetts Pool Prices start at $50,000-$70,000 for a basic inground pool. Check prices from local pool contractors below.
Looking for a Swimming Pool Quote in Massachusetts?
Fill out this quick form and get a swimming pool quote online from top pool builders in your local area.