Buying an Inground Pool in Maine
Maine is known far and wide as a place of scenic and nature beauty. Tourists flock there for the skiing, hunting and fishing. It's a beautiful state alright, but it's not known as a swimmers paradise. It can get pretty cold in this part of the country, but still homeowners want the convenience and lifestyle that comes with inground pool ownership in the summer months. Researching Maine Pool Prices? Keep reading.
Construction Costs: AVERAGE
Swimming Season: SHORT
Short Swim Season
Because of it's close proximity to the Atlantic Ocean, Maine has an extraordinarily short swim season. There are only about 2 months in the entire calendar where an outdoor inground pool can be used without a heater. Many Maine pool buyers opt to build an indoor pool instead or equip their outdoor pool with an additional inground spa or above ground hot tub.
Popular Maine Inground Pool Features
[carousel-horizontal-posts-content-slider-pro id='71196′]
Top 10 Cities in Maine Building New Swimming Pools
South Portland
Scarborough
Brunswick
Cumberland
Topsham
Freeport
Portland
Hampden
Kennebunk
Westbrook
How Much it Typically Cost to Install an Inground Swimming Pool in Maine?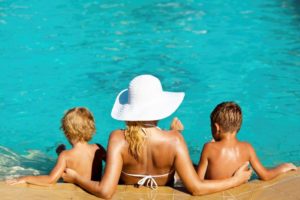 Labor costs to build an inground pool are about average and on par with what you'll find around the rest of the country. A quick survey of Maine pool builders in multiple cities came back with prices that start in the $40,000-$50,000 range which sounds about right for an Inground Swimming Pool in this area of the country.  You can expect to pay a bit extra if you opt for an indoor pool or special pool heaters to keep the water temperature comfortable in the cooler months. Obtaining a pool building permit can be tricky and there are special regulations in regards to perimeter fencing around the swimming pool so it's advisable to check with a reputable pool contractor first.
Average Maine Pool Prices start at $40,000-$50,000 for a basic inground pool. Check prices from local pool contractors below.
Looking for a Swimming Pool Quote in Maine?
Fill out this quick form and get a swimming pool quote online from top pool builders in your local area.