Buying an Inground Pool in Iowa
Building a swimming pool in Iowa isn't as far fetched an idea as it might sound. If you've ever seen the baseball movie Field of Dreams, you'll remember the quote "If you build it, they will come". Well the same premise holds true for would be swimming pool buyers in Iowa. If you put a swimming pool in your backyard, you can expect frequent guests, neighbors, family and friends dropping by to help you take advantage of your new purchase. Researching Iowa Pool Prices? Keep reading.
Construction Costs: AVERAGE
Swimming Season: AVERAGE
Average Swim Season
Iowa summers are pretty spectacular with temperatures in swim range from early June through late August. Depending whether or not you can stand cooler temperatures you can stretch your average swim season well into late September in Iowa, especially if you add on a pool heater. With that being said, many Iowa pool owners get by just fine without one and enjoy their pool in their summer months opting to close their pool usually after labor day to keep maintenance costs down. An automatic pool cover is a frequent investment many Iowa home owners make when installing a pool because it helps keep debris out and keeps water from freezing in the pool during the colder months.
Popular Iowa Inground Pool Features
[carousel-horizontal-posts-content-slider-pro id='71196′]
Top 10 Cities in Iowa Building New Swimming Pools
Waukee
North Liberty
Johnston
Grimes
Clive
Norwalk
Ankeny
Urbandale
Pleasant Hill
Coralville
How Much Does it Typically Cost to Install an Inground Swimming Pool in Iowa?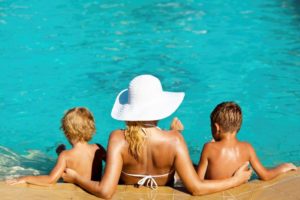 Construction costs for installing a pool in Iowa are average and on par with what you'll find around the rest of the country. A quick survey of Iowa pool builders in multiple cities came back with prices that start in the $40,000-$50,000 range which sounds about right for an Inground Swimming Pool in this area of the country. Iowa pool buyers find that the bigger factor for cost savings come in Iowa's relaxed restrictions in regard to perimeter fencing and easy to obtain pool building permits. These two costs usually tack on an additional several thousand dollars to any normal pool installation.
Average Iowa Pool Prices start at $40,000-$50,000 for a basic inground pool. Check prices from local pool contractors below.
Looking for a Swimming Pool Quote in Iowa?
Fill out this quick form and get a swimming pool quote online from top pool builders in your local area.