Indiana Pool Prices: What Do Inground Pools Cost in Indiana?
One thing people love about The Hoosier State of  Indiana – the varying climate and seasons mean there are a large majority of swim-able days to be found between Memorial Day and Labor Day. Indiana pool prices are on par with what you'll find in many other areas of the United States. With a much longer swim season than most of the rest of the Mid West. Indiana home owners often opt to install a pool heater which enables them to extend their pool season a bit. Researching Indiana Pool Prices? Keep reading.
Construction Costs: HIGH
Swimming Season: AVERAGE
Indiana Inground Pool Owners Have an Average Length Swim Season
If you live in Indiana, odds are you'll see plenty of swim days during the summer months when temperatures climb and the weather is hot and humid. From Indianapolis to Fort Wayne, you can expect a longer than average swim season if you live in this area of the Mid West. Many pool buyers choose to add on a pool heater or enclosure around their pool – indoor pools are also quite popular in the state of Indiana.
Popular Indiana Inground Pool Features
[carousel-horizontal-posts-content-slider-pro id='71196′]
Indiana Pool Prices by City
Indiana Swimming Pool News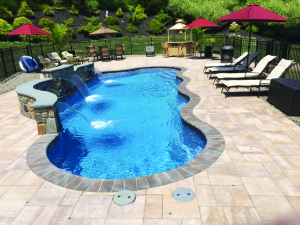 If you are thinking of installing a pool or buying a home with a pool, you should consider the benefits of swimming pools. Even if you are not an excellent swimmer, you can still enjoy swimming. Having a swimming pool at your disposal gives you access to ways of staying fit and healthy as well […]
How Much Do Inground Swimming Pools Cost in Indiana?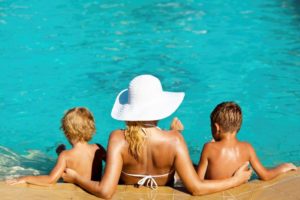 Prices for pool installation in Indiana can vary dramatically from area to area. Labor costs for pool construction remain comparatively low in conjunction with the rest of the country.
A basic inground pool costs around $40,000 in Indiana.
Swimming pool construction costs a bit more in this part of the country. A quick survey of Indiana pool builders in multiple cities came back with prices that start in the $40,000-$50,000 range which sounds about right for an Inground Swimming Pool in this area of the country. Obtaining permits can be tricky, the exact permit process differs from city to city – so check with a seasoned pool builder that has experience in this regard. There are also specific laws in regards to fencing. For Indiana residential inground pools must have a fencing enclosure at least 5 feet tall, so you'll definitely want to factor this additional cost as well.
Average Indiana Pool Prices start at $40,000-$50,000 for a basic inground pool. Check prices from local pool contractors below.
Looking for a Swimming Pool Quote in Indiana?
Fill out this quick form and get a swimming pool quote online from top pool builders in your local area.