Buying an Inground Pool in Delaware
The close proximity to New Jersey and New York make Delaware an ideal place to live for many commuters who call Delaware home. Densely populated in terms of its size – many Delaware home owners are building inground swimming pools to take advantage of their backyard and creating the ideal staycation during the summer. Researching Delaware Pool Prices? Keep reading.
Construction Costs: AVERAGE
Swimming Season: SHORT
Short Swim Season
Like most of the other states in the Northeast, you'll find a shorter than average swim season in Delaware. You'll find that many Delaware pool buyers opt to add on a swimming pool heater when they install their inground swimming pool. Doing so enables pool owners to extend their swim season well past Labor Day.
Popular Delaware Inground Pool Features
[carousel-horizontal-posts-content-slider-pro id='71196′]
Top 10 Cities in Delaware Building New Swimming Pools
Newark
Dover
Hockessin
New Castle
Pike Creek
Elsmere
Edgmoor
Glasgow
Wilmington Manor
North Star
How Much Does it Typically Cost to Install an Inground Swimming Pool in Delaware?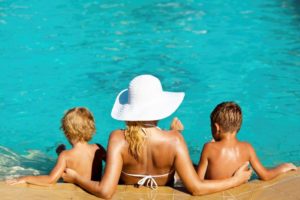 Construction costs for installing an inground swimming pool in Delaware are average and on par with what you'll find in the rest of the country. A quick survey of Delaware pool builders in multiple cities came back with prices that start in the $40,000-$50,000 range which sounds about right for an Inground Swimming Pool in this area of the country. Many homeowners add on a pool heater so that may pad costs a bit. The building permit process for installing a pool in Delaware is easy in comparison to most states and there are no special rules or regulations about installing a perimeter fence around your pool so you'll save some money there. We hope you find these tips helpful but always consult with a professional swimming pool contractor first.
Average Delaware Pool Prices start at $40,000-$50,000 for a basic inground pool. Check prices from local pool contractors below.
Looking for a Swimming Pool Quote in Delaware?
Fill out this quick form and get a swimming pool quote online from top pool builders in your local area.