Buying an Inground Pool in Alabama
Alabama is a typical southern state with hot summers and short winters. It's a prime spot for residents to build swimming pools and prices for pools in Alabama are actually pretty reasonable. From Mobile to Huntsville, pools are popular among Alabama homeowners that are looking to beat the heat and improve their quality of life. Researching Alabama Pool Prices? Keep reading.
Construction Costs: LOW
Swimming Season: LONG
Long Swim Season
You'll get plenty of use from your swimming pool if you live in Alabama. Homeowners can expect a longer than average swim season. Many pool buyers choose to add on exciting features like diving boards, water slides, rock waterfalls, negative edges, beach entries, you name it! Alabama pool buyers are building over the top swimming pools to take full advantage of the warm weather.
Popular Alabama Inground Pool Features
[carousel-horizontal-posts-content-slider-pro id='71196′]
Alabama Pool Prices by City
California Swimming Pool News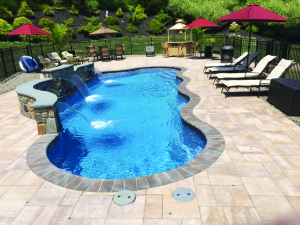 If you are thinking of installing a pool or buying a home with a pool, you should consider the benefits of swimming pools. Even if you are not an excellent swimmer, you can still enjoy swimming. Having a swimming pool at your disposal gives you access to ways of staying fit and healthy as well […]
How Much Does it Typically Cost to Install an Inground Swimming Pool in Alabama?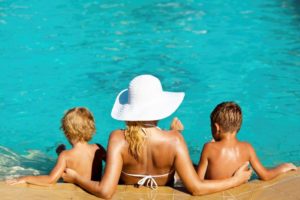 One big reason Alabama Pool Buyers go for all those extra features is because the cost for swimming pool construction is comparatively lower cost due to cheaper costs for labor. A quick survey of Alabama pool builders in multiple cities came back with prices that start in the $30,000-$40,000 range which sounds about right for an Inground Swimming Pool in this area of the country. Your pool buying dollar goes much further in this part of the country. Pool building permits are normally pretty easy to obtain in Alabama but mandatory fencing laws require you build a fence or wall at least 4 feet tall around your pool complete with a lockable gate or door so make sure to factor this into your overall pool construction costs.
Average Alabama Pool Prices start at $30,000-$40,000 for a basic inground pool. Check prices from local pool contractors below.
Looking for a Swimming Pool Quote in Alabama?
Fill out this quick form and get a swimming pool quote online from top pool builders in your local area.